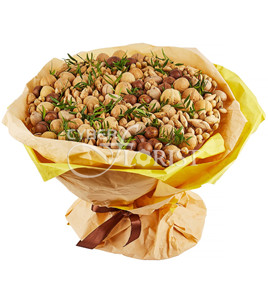 Like this? Share it with your friends
Walnuts Almonds Macadamia nuts Pecan nuts Pistachio nuts Greenery Wrapping Ribbon Bouquet diameter approx 35 cm
It may take 2-3 days for this product to be delivered. Please make sure the order is placed in advance.
Appearance and brands may vary according to the assortment of a certain region. Our general responsibility is keeping quality and integrity of items delivered.
Thank you very much! The order was delivered on time! All fruits are fresh! The surprise worked! Thanks again for your services!
Today I sent my wife in Bishkek flowers and champagne and chocolates ...I wish to thank you on all your excellent service .. your service is the best I have encountered regards
Cyber-florist thank you so much... Great service. Its my first order and i am so happy i made this transaction with you... This is a very important occasion for my beloved and you made our day.. Perfect flowers exactly like on the webpage... The toy is very cute.. Kudos for your team.. Keep up the good work.. Looking forward for another order... I love you guys...
Wow-what a great service, Thank you so much, it only took a couple of hours and my gift was delivered and much appreciated. I won't hesitate to use your service again.
Thank you very much for outstanding and customer oriented service
You have always done such a wonderful job with my Nastya, I truly appreciate your service.
The order looks great and I appreciate what you guys do. I will continue to use your service. Thank You
Thank you so much for your service! I ordered perfume and few other gifts and she was so happy! This is a very convenient service. I will definitely use your company for future holidays and recommend to my friends.
Thank you very much for the wonderful service and selection of gifts. I often use the Cyber Florist company for orders to Russia, and all of the arrangements that I have every ordered have always been delivered on time and looked exactly as described. The communication with the team has also been very good. I would definitely recommend this service to anyone!