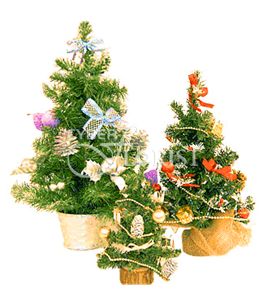 Like this? Share it with your friends
An artificial Christmas Tree with baubles and decoration
It may take 2-3 days for this product to be delivered. Please make sure the order is placed in advance.
Appearance and brands may vary according to the assortment of a certain region. Our general responsibility is keeping quality and integrity of items delivered.
Buy an Artificial Christmas Tree as a gift with delivery
An obligatory attribute of the New Year celebration is a festive tree. Christmas tree is a symbol of the holiday.
Don't be discouraged if you missed the time to buy a Christmas tree in advance.
You can order the delivery of the Artificial Christmas Tree online at Cyber Florist. We will deliver the Christmas tree right on the day of order.
Also, you can order delivery not for yourself, but as a gift. Send your loved one a symbol of New Year and Christmas - a beautiful green Christmas tree.
Best international flower delivery service I've ever used. The customer service was beyond excellent. They were always quick to respond and very polite and informative regardless of the time of day. I have absolutely no complaints. Even through a pandemic I was able to send gorgeous flowers to my loved ones located in a very rural town in a different country. Well worthy every penny. Cyber-florist will be my to go to website for flower delivery every time now. I 100% recommend. Thank you so much Cyber-Florist!
Thank you for delivering promptly and on time. I will surely use your service in the future again
I sent red roses to my wife in Moscow, Russia for her birthday and they were delivered exactly when required. I'm very impressed! The delivery guy called my wife to confirm delivery information and the flowers looked GREAT! I will definitely use this service again. 5 Stars!
The order looks great and I appreciate what you guys do. I will continue to use your service. Thank You
Cyber-florist thank you so much... Great service. Its my first order and i am so happy i made this transaction with you... This is a very important occasion for my beloved and you made our day.. Perfect flowers exactly like on the webpage... The toy is very cute.. Kudos for your team.. Keep up the good work.. Looking forward for another order... I love you guys...
THANK YOU GUYS FOR SUCH GREAT SERVICE!!! WISH YOU HAPPY NEW YEAR AND LOTS AND LOTS OF CLIENTS! PLEASE DONT STOP YOUR SERVICE ;) PS I WILL RECOMMEND YOU TO ALL PEOPLE
You have always done such a wonderful job with my Nastya, I truly appreciate your service.
Thank you very much for the wonderful service and selection of gifts. I often use the Cyber Florist company for orders to Russia, and all of the arrangements that I have every ordered have always been delivered on time and looked exactly as described. The communication with the team has also been very good. I would definitely recommend this service to anyone!
I have used a lot of online flower delivery services but Cyber Florist has exceeded my expectations. I ordered flowers and chocolate for my wife (who is abroad with her family at the moment) and the flowers were in great condition. The customer service was amazing as well! Slava was attentive to all my questions about the time and delivery and any other questions I had to ask. I will definitely continue ordering from Cyber Florist the future.